JET JUNIORS | CLUB TEAMS
JET Juniors are developmental club teams for 3rd-6th grade athletes.  Kids will be evaluated during the PowerBall League and JET Prep/Group Training.  There will be NO tryouts, as JET believes tryouts at this age can be discouraging to a player's development.
Teams will participate in one or two team practices per week, with JET Director, Jess Evers, overseeing a minimum of one practice per team, per week.
The JET Juniors teams will compete in 4 local tournaments. Jet Juniors Plus adds practices and tournaments.
Cost of a club season can vary depending on tournaments entered, jerseys and other variables.
JET JUNIORS CLUB SEASON:  DECEMBER thru MARCH
WHO:  12 years old and under – 4th-6th Grade Athletes
JET SETTERS | CLUB TEAMS
SEMI-TRAVEL:  Competitive Club teams for 5th-12th grade athletes who wish to play on pre-formed/independent teams.  JET offers a trained coach and/or additional players to help round out a successful team.  Teams will play in 4-5 local tournaments, 1-2 out of town tournaments.  These teams are more focused on developmental needs than National Championships.  Cost of semi-travel can vary depending on selected tournaments, number of practices per week and uniforms.
FULL-TRAVEL:  Competitive Club teams for 6th-12th grade athletes who wish to play on pre-formed/independent teams.  JET offers a trained coach and/or additional players to help round out a successful team.  Teams will play in 6-9 local tournaments, 2-6 out of town tournaments (this could include 1-2 National Qualifiers!).  These teams are more focused on a full competitive schedule with a possibility of qualifying for Nationals.  
JET SETTERS CLUB SEASON:  DECEMBER thru APRIL
WHO:  6th-12th Grade Athletes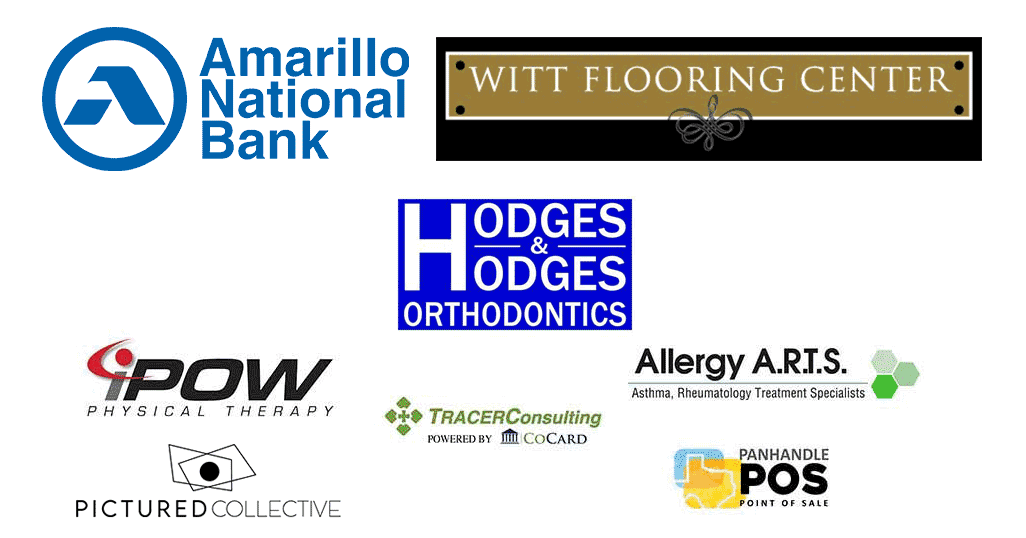 Coach Jess Evers
JET Director | Head Coach | Head Trainer
As the owner of JET Volleyball Club, I can say my 20+ years of experience in this industry has been met with many highs, some lows, tons of wins, ugly losses but more importantly pride in what has been built.  Since the age of 7, I knew volleyball was the sport for me and luckily I was able to see my playing career through high school and college.  However, I never imagined I would turn my passion into a business but here we are.
Since the conception of JET, the main focus has been the importance of training athletes of all skill levels and developing teams based on their age/ability.  Teaching the fundamental skills of volleyball is the foundation of our organization followed by the implementation of high-level competition.  JET prides itself on developing young athletes into volleyball players regardless of their talent level and our training program is the best asset to our club.  Our standards for improvement, growth and success are expectedly high because we trust that the hard work, dedication, commitment, and loyalty will pay off. 
JET is more than a club; it is a culture!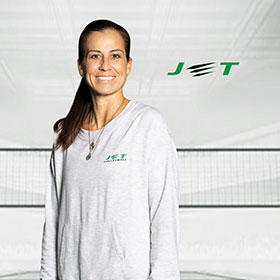 EXPERIENCE
– Collegiate Volleyball – Wayland Baptist: 4 Years
– Coaching: San Jacinto Christian Academy
– Hereford H.S.: Varsity Player – 3 Years
– High Plains Director: 1 Year
– AEV Director: 5 Years
Wayland Baptist University:
– 1996 – Championship Team (30-2)
– 1996 – Tournament Championship Team
– 1996 – Member of NAIA SW Regional Tournament Championship Qualifier
– 1996 – Member of Sooner Athletic Conference
– 1997 – Co-Championship Team (21-11)
– 1997 – Member of NAIA SW Regional Tournament Qualifier
– 1998 – Member of NAIA SW Regional Tournmant Qualifier
– All-Time Career Ranking: 1st in Wins (83)
– All-Time Career Ranking: 1st in Digs (974)
– All-Time Career Ranking: 5th in Service Aces (116)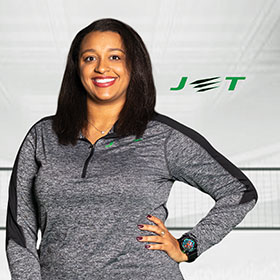 Coach Carr
JET Coach & Trainer
EXPERIENCE/BIO
I have two daughters and three dog babies. We love to spend time outdoors and have a good time! I am outspoken, love a good laugh, and am a true foodie! I am a nuclear medicine technologist when I'm not in the gym coaching with JET.  I played club for Amarillo JO's and CAV from 2003-2009. Tascosa High School from 2005-2009.  I have 8 years coaching experience with JET, 10 years total coaching club. I have coached ages 11-15s in club season, trained all ages in off season.
Summer, 2021 I became head trainer over hitting and blocking for 12&u-14s with JET.  I played club for Amarillo JO's and CAV from 2003-2009. Tascosa High School from 2005-2009.
The best thing about coaching for JET is that we are not only training volleyball athletes to be the best they can within their sport by requiring hard work and dedication but by also pushing them to their limits to break through their individual obstacles to help them become the best versions of themselves. "You can't quit, you owe it to yourself to show you what you're made of."
Respect, Hard work, Dedication, and Loyalty- doesn't get much better than that. Sounds pretty "JET" to me!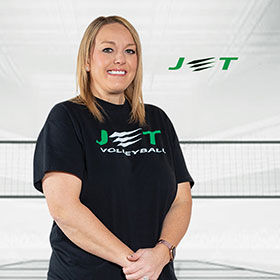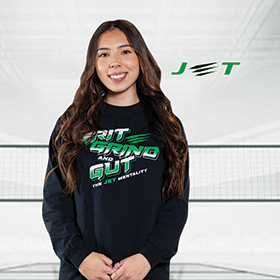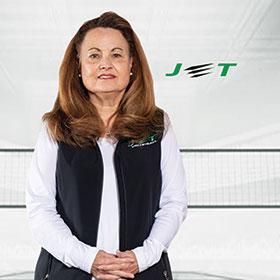 Coach K. Little
JET Coach & Trainer
EXPERIENCE/BIO
I am a retired teacher, but forever a Christian, wife, mom, mimi, coach and competitive pickleball player.  JET Volleyball is the best training and coaching that young players can obtain in Amarillo and the Panhandle area.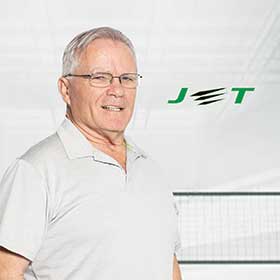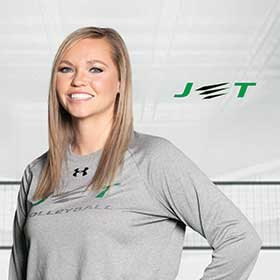 EXPERIENCE/BIO
I am blessed to coach and be a part of JET! This is my 10th year coaching for JET and I'm extremely excited! My current team (JET Fierce) has qualified for nationals the last three seasons. I have also been a high school coach for the last 8 years. 1 year head volleyball coach at River Road, 3 years assistant coach at Tascosa and the last 4 years I have been the head coach at Dumas High School. Coaching and seeing growth in kids is something that makes my soul happy! I can't wait to see what this season will hold!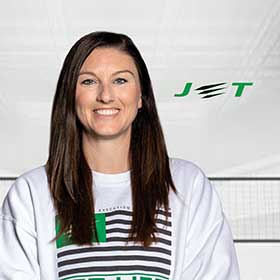 EXPERIENCE/BIO
I am married to my husband, Eric and we have two kids together, Nate and Harper. I grew up playing Club Volleyball in Amarillo. I won Lonestar as a 12-year-old and finished 5th at Nationals that year.
I played on teams that qualified for Nationals every year up until my 18s year. I then played for TAV in Dallas my 18s year and finished 3rd at Nationals.  During my high school years, I played at Amarillo High School. I was the first libero and won a State Championship in 2006. My individual awards included: All-American, All-State, All-District, Globe News Super-Team, won Defensive MVP at two of the pre-season tournaments in Duncanville and Pearland. After high school I played at the University of Oklahoma for one season in 2007. I then moved back home and began my coaching career. I have coached for Jess since 2008. In 2012 my team finished 3rd at Crossroads and won regionals to qualify for Nationals in Ohio. I also was the head volleyball coach at Bonham from 2013-2019 and won multiple City Championships. 
Finally, the best thing about coaching at JET is seeing what an amazing family we all are. Coaches, parents, and kids all know each other, root for each other, and genuinely want the best for each other. I've never seen another director in Amarillo develop the relationship that Jess does with her staff, parents, and athletes. JET is truly one of a kind!
Coaching Experience – 9+ Years
Playing Experience – 3 Years
Team Experience:
1– National Appearance in Columbus, OH
1– Regional Championship
2– Top 3 Finishes at Colorado Crossroads
1– Top 10 Finish at Lone Star
JET "Ambush" 11u– 1 Silver Medal & 1 Bronze Medal playing "up" in 12u's
Coaching Experience:
San Jacinto Christian Academy
Networks Volleyball
JET Volleyball Club
Playing Experience:
8 Years – Club Ball for JO's, High Plains, AEV and TAV
4 Years – Amarillo High School
1 Season – University of Oklahoma
2006 – Two-Time All-American
All State
2006– Defensive Player of the Year State of Texas and District 2-5A
1 State Championship for Amarillo H.S.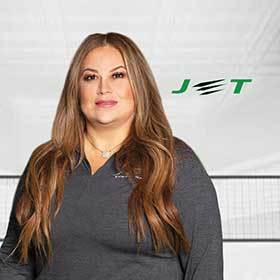 EXPERIENCE/BIO
Hello, my name is Angela Van Wyk, I am married to Will Van Wyk and we have 4 amazing children! I have been hairstylist for 18yrs, and I also help my husband on our ranch! In my spare time I have always been involved with my children's sports and hobbies! I have coached volleyball since I was 18yrs old. My sister is Jess Evers, so I pretty much have been involved with Jet Volleyball since the beginning! I absolutely love how Jet Volleyball is structured to be one big happy FAMILY! And that is very important to me!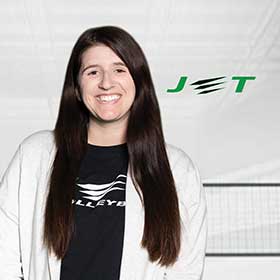 Coach Sharpensteen
JET Coach
EXPERIENCE/BIO
I am Coach Sharp. I have grown up playing volleyball & currently coach at Bonham middle school. This will be my second-year coaching at JET. I love the atmosphere JET has and it makes my job enjoyable. I am getting married in May, I have two awesome dogs & I love a good book!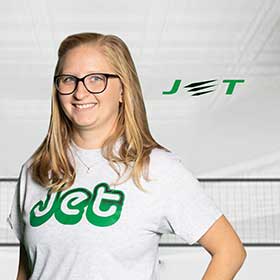 EXPERIENCE/BIO
I'm from the Dallas area, where I played middle school and high school volleyball in Frisco. I moved to Amarillo to go to WT in 2014. I married my husband Billy in 2017 and we have four pets. I'm so excited to be a coach for JET and help girls become better players!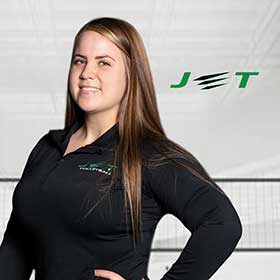 EXPERIENCE/BIO
I am Journi Whisenhunt. I was born and raised in Amarillo Tx. I have two daughters, Lexy, 12, and Madison, 7. Lexy has played for Jet going on 3 years and Madison enjoys Jet prep. I have had the privilege of coaching for Jet for the last 3 years and have enjoyed every minute of it. For the last 6 years in my free time, I've played on a women's city league team. I've had a passion for volleyball since I was a teenager and I love passing on that passion to young athletes within the Jet program.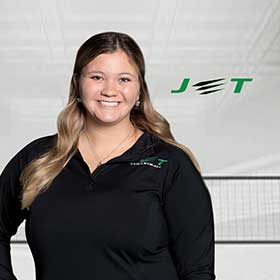 EXPERIENCE/BIO
I'm Landri Ivie! I am a freshman at WTAMU. I played for JET for 7 years then my sophomore year of high school I became an assistant coach throughout the rest of my high school career. This is my first year to have a team on my own, and I couldn't be more excited for this coming up season. JET is by far the best club with the best athletes and the best coaches! I'm super excited for this year!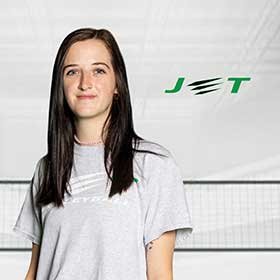 EXPERIENCE/BIO
I started playing volleyball for JET when I was 10 years old (2010) and had the greatest experience. After graduating high school, I played volleyball at a collegiate level at a Junior College and after getting my Associates Degree in Elementary Education, I moved back to Amarillo to continue my education. This is my second season coaching for JET and love every second of it and everything that JET is about!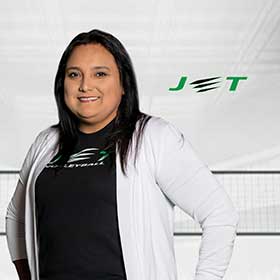 Coach Chavarria
JET Coach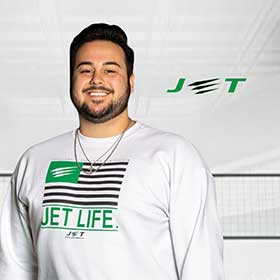 AJ Williams
JET Coach & Trainer
EXPERIENCE/BIO
I spent a majority of my life in Dumas, where I graduated in 2015. I come from a family of educators. My dad being a teacher and coach for over 20 years and my mom being a teacher for a little less than that. I fell in love with the game around the time my sister did, and I would help her club coach at the time with practices in any way she needed/wanted. That opened me up to wanting to pursue more than just recreation in the game and led me to my now sixth year at JET in the fall, and 3rd year full time training. My best experience with JET is the culture that surrounds not just us coaches, but the parents and players. It's a family; no matter what club team, or what GT session, all members of our club in any capacity are always supporting each other. That is rare in the club world, and that is why JET is truly the best.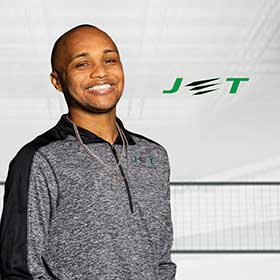 Coach Robinson
JET Coach & Trainer
EXPERIENCE/BIO
I have been a JET Volleyball Coach for the past 8 years and a trainer for 10 years.
The best thing about coaching at JET is creating a hard-working lifestyle for the kids that transcends far past the volleyball court. Seeing them develop a work ethic that never quits. Our athletes may see that they're not the most talented, but they WILL show you that they are the hardest worker on that court.
Player:
2005 – USAV Junior Olympic Silver Medalist 14U
2006 – USAV Junior Olympic top 10 finish (8) 15U
2006 – OIA (Oahu Interscholastic Association) high school Honorable Mention
2008 – OIA Red Division Champion
2008 – OIA First Team All-American (2nd pick)
2008 – Hawaii "All-State Fabulous 15" selection
2008 – Waianae High School Most Inspirational Athlete
2008 – USAV Junior Olympic Gold Medalist 17U
2008 – USAV High Performance Silver Medalist 18U
2008 – Graduated from Waianae High School
– Received an athletic volleyball scholarship to Missouri Valley College
2013 – Graduated From Missouri Valley College
Fall 2013 – Head coach for St. Andrew Episcopal School Fall
Fall 2014 – Assistant Coach for Clarendon College Fall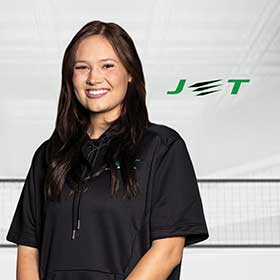 Coach Norris
JET Coach & Trainer
EXPERIENCE/BIO
I am a teacher and the Head Volleyball coach at Vega High School. I have been coaching with Jet for almost 5 years, and I played for Jet for 6 years prior to coaching. My favorite thing about coaching at Jet is the relationships I've built with the coaching staff, I have made so many genuine, life-long relationships through this career. I love spending time with my husband, Dylan and my fur-baby, Koda. I love my time outdoors and I love traveling.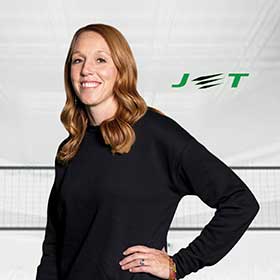 EXPERIENCE/BIO
I am  Christin Froneman. I am married and have two beautiful girls Gracie and Halle. I have been involved with volleyball most of my life. I started playing volleyball in 2nd grade and instantly fell in love. I went to high school at River Road where I played volleyball, basketball and ran track. I played on the varsity volleyball team 3 years and was named newcomer of the year my sophomore year. I made first team all-district all 3 years. My senior year we made it to the state volleyball tournament, and I was named to the All State All-Tournament Team. After high school I continued my volleyball career at Vernon Junior College where I was named as a NJCAA Academic All American. Then I moved back home and finished my degree at WTAMU. I started coaching club ball in 2004. In 2006 I was hired at Palo Duro High School where I coached JV volleyball and taught Biology. In 2014 I got the opportunity to be a stay-at-home mom. This will be my first season coaching at JET. What I love about Jet Volleyball is how they push their athletes to their full potential. This is a skill that will help every athlete throughout life both on and off the court.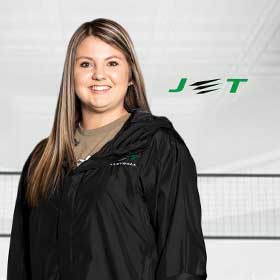 Coach Atteberry
JET Coach
EXPERIENCE/BIO
I am a Dumas High Grad of 2013, where I played 5A varsity volleyball for 2 years. I went to New Mexico Military Institute in Roswell NM where I played volleyball. While at NMMI I was a part of the first team in school history to win the Regional tournament to get a bid to go to Nationals. We finish 10th at Nationals my freshmen year, and 14th my sophomore year. After graduating I transferred to WTAMU to continue my education and graduated in May 2017. I then started teaching and coaching in Dumas. I have been the varsity assistant coach for 4 years. This is my 6th year of coaching club, the past 4 years have been with JET. My favorite thing about coaching at JET is the family atmosphere, and Jess and her coaches are constantly pushing their athletes to be the best players and people they can be! EXPERIENCE/BIO
I have a daughter that is a freshman at Randall high school.  I started playing volleyball in 2000 on the men's team at West Texas A&M University and I played beach doubles in Galveston as well. I also started coaching club ball around that time. I coached for San Angelo Christian Academy for two years and most recently I coached summer league teams and group training in the San Angelo area. EXPERIENCE/BIO
I have been coaching with JET for three years now. The best thing about coaching at JET is the amazing environment at each tournament that my teams have played in. The talent that each athlete is exposed to never fails to amaze me! It is always a challenging, enthusiastic, and driven experience each and every time. When I am not coaching, I am a 5th grade reading and writing teacher for Dumas ISD. I have two fur babies. EXPERIENCE/BIO
I have been married for 4 years to Brekken. We have Brylen who is 4 and Spencer who is a year old. I coached for Dumas Junior High for two years before coaching JET. This will be my second year with JET. I love traveling and bonding with my team. Coach Rodriguez
JET Coach EXPERIENCE/BIO
My name is Kisika Cariker, I have 2 daughters and 1 son. I have been coaching my daughters for about 4 years in our local YMCA. I personally played volleyball in high school with 2 State Championships and reaching the State Semi Finals. I also played in college for 2 years at Galveston Junior college. Volleyball has always been a passion of mine and I hope to share it with my girls.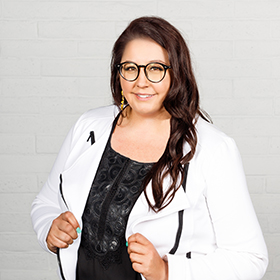 Lace Taylor
JET Club Photographer
EXPERIENCE/BIO
My long-time love of photographs started, like most of us, as a kid. I have always been a sentimentalist and a collector of moments.
Professionally, however, I have been in the photography and digital design industry for a little over a decade, receiving my AAS in photography and graphic design in 2016, and my AA in education in 2018. Prior to that I was a cosmetologist. I was still behind the camera, but as a hair and makeup artist. Being a single mother fo two super cool little girls, I wasn't in the position to become a full-time photography and graphic design devotee until 2020.
My first professional endeavor was Lemon Studio co., LLC. A full-service photography studio I co-own with two other colleagues. We personally use the space, as well as, rent it by the hour to fellow creatives. 
Second came Pictured Collective, LLC. Pictured Collective game me the opportunity to work with JET Volleyball, WTX Premier Basketball, Press Pass Sports, Young Guns Baseball, Redhawks Baseball, Downtown Athletic Club, and so many others I am so grateful for. Just recently, Pictured Collective was named "Best In Amarillo," and I am proud to say that I am also being given the opportunity to work with our BRAND NEW West Plains campuses on their sports media as well! Go Wolves!
I'm looking forward to another season photographing these super talented JET teams! LET'S GO JET!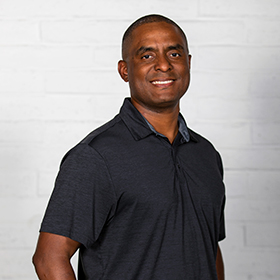 Travelle Hudson
JET Club Videographer
EXPERIENCE/BIO
I became a volleyball dad in 2017 when my oldest daughter started playing. She has been a part of JET since 2018 and now both of my daughters are currently playing. I got into recording games or clips of my girls at tournaments just like any parent does. That quickly turned into putting a few clips together to make a video for fun and eventually into a passion. As a videographer, I have the privilege of documenting the season long journey from beginning to end of these amazing athletes. It's an honor to be able to capture incredible key moments on and off the court and turn that into tournament highlight videos and social media content to showcase the athletes' hard work and the talent and dedication of the JET coaching staff.
JET Volleyball Club is a Non-Profit business. We have a Board of Directors which consist of a President, Vice-President, Secretary, Treasurer, and player parent as member at large.
OFFICERS:
President: Katie Smith
Vice President: Andrea Cash
Secretary: Aaron Robinson
Treasurer: Christy Milton
Parent/Member at Large: Sam Cox