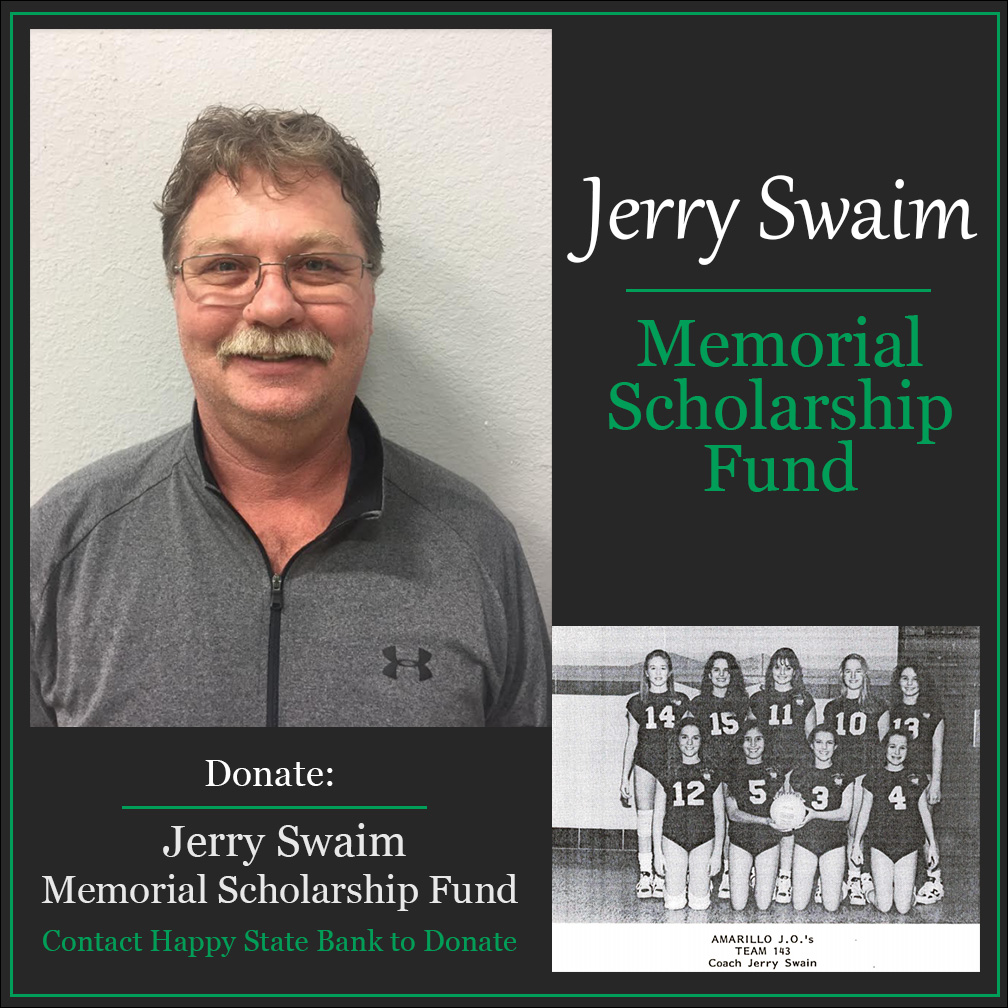 Coach Jerry Swaim
To donate the the
Jerry Swaim Memorial Scholarship Fund
please call or visit Happy State Bank.
The Happy State Bank in Dumas, Texas phone number is
806-934-2265
Meet Jerry Swaim
Dreams: Coach Swaim's dreams were to see Bennett (his grandson) win the Houston Livestock Show and Rodeo Pig show, coach high school volleyball with Ashlei and win a state championship.
Coaching Bio: Coach Swaim played volleyball at Texas Tech for 2 years, and started coaching club volleyball in 1992, he coached for Amarillo JO's AEV and for JET Volleyball
Family's Views: Coach Swaim loved being a dad, loved coaching his kids in baseball, basketball and volleyball. He always wanted the best for them, loved his grandson and couldn't wait for him to get old enough to play sports and start showing animals.
Coach Swaim's family views of his coaching: We loved his passion for coaching, he always wanted his teams to win but more importantly wanted the kids to learn hard work pays off. What you do in practice shows in the games and he always tried to teach his kids to follow their dreams and never give up.
Coach Jerry coaching out team last year was filled with lots of fun memories. I do not know how many times he made me laugh at practice. One time at the end of practice he went to go shut off the lights and told us not to leave him, but we got scared and we ran off without him. Another time the lights went out and the janitor walked in and scared him badly. When he got to us he was holding his heart and said, "I thought Gretchet was going to get me." We all died of laughter. Another memory was when I served the ball, not well and the ball went down and bounced back up and hit him on his backside. He turned around and was so shocked. He told me that the ball was supposed to go over the net.
Having Jerry as my coach for one year changed my life immensely. In that year he taught me so many things. Just a few things he taught me was to hit ones, made me a better blocker, and he NEVER gave up on me. No matter how bad of a day I was having he was always on my side. Even though he is not on the court beside me, he will always be in my heart. I will miss you Coach J.
~Rylee
I remember when my team and I got done with practice. We were waiting while my older sister finished practicing and when they finished, we started to play paint the floor. Ashlei served first then it was Jerry's turn. He went to lay on the floor and his motto was "think skinny." Another time at practice we were going to play against my sisters' team. My friend Sophie and I would always talk trash to each other, and Jerry would say, 'Y'all are on the same team." At every volleyball game when I was on the bench, I would see Jerry sitting and watching us play and supporting us. I just wanted to say I am very thankful for meeting Jerry Swaim and his daughter Ashlei. I do not know what I would do without them in my life or as my volleyball coach. Jerry and Susan always watched and supported me during our games. Thank you for the best year of memories of laughter and love.
~Reynee                 #think skinny
Coach Swaim makes me laugh so hard.  I will miss him, and he is in my heart.  He is the best coach for Rylee! He helped her get better.  When I hear his name, I cry because I love him.
~Reed